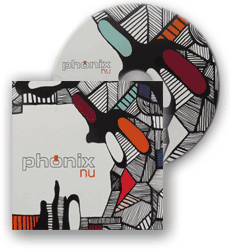 "It's is six years since Phønix last made an album, so this latest, excellent one genuinely deserves that old cliché "long awaited". And it doesn't disappoint." - 5 stjerner i det anerkendte engelske folktidsskrift Froots:

"Det er en oplevelse at høre Phønix' sprudlende numre, som holder til mange gennemlytninger, før man ikke længere opdager nye detaljer. Stemme- og instrumentbehandlingen er overlegen, det musikalske overskud stort og lyden flot...Phønix "NU" er en spændende oplevelse af et band i bevægelse, som med lang rutine og stort musikalsk overskud yder et markant bidrag til den danske folkscene – lige nu!" - RootsZone (DK)

"Nu" indeholder en buket af danske folkeviser og sange i nye fortolkninger og arrangementer. Hertil kommer en række instrumentale numre komponeret at bandets medlemmer. På dette album er den velkendte groovende Phønix-sound, blevet forfinet og videreudviklet med nye elementer af bl. a. keys, synth og kor.